Luxury Pillow Shams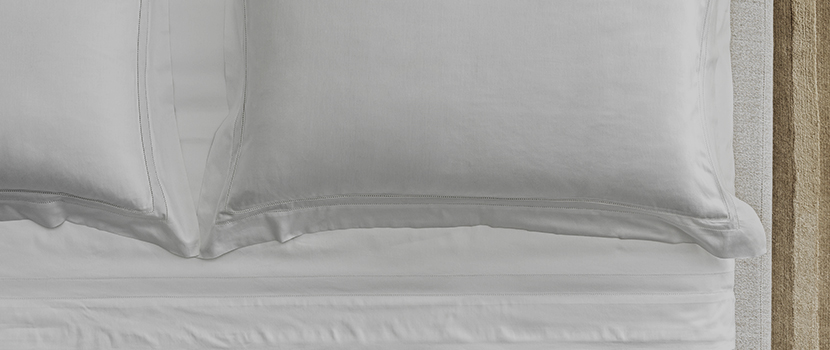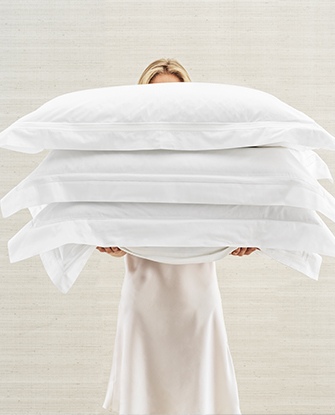 Pillowcases & Shams
The words "head to pillow" make for a pleasant phrase. They conjure up memories of warm summer nights sleeping on soft cool pillows, a divine sleep experience. Frette's pillowcases and shams are equally lovely and bring those feelings of comfort and peace into the reality of everyday life. We offer a number of pillowcase and sham options, and all are appealing. The soft, comfortable sham and pillow case sets are available in standard and king size.
Both pillowcases and shams are available in different colors and are designed to match Frette's bed sheet collections. Pillowcases are a functional pillow covering that are made to be slept on. They're available in neutral tones, including white, ivory and cliff grey, although additional colors may be available, depending on the specific bed linen collection. As part of a collection, each pillowcase includes elegant features that harmonize with the associated bed linens, such as subtle sophisticated patterns and embroidered piping detail.
Made in Italy of the finest 100% cotton, the sham, though completely comfortable for placing "head to pillow", is also decorative. Pillow shams are designed with an attractive tuck flap and gorgeous flanges along the four edges. Even if you don't sleep in a queen or king sized bed, a pillow sham will add a regal flair to your bedroom, making it fit for a queen or king. Matching pillowcases and shams will bring a sophisticated uniformity to your bedding, but it is more common to choose a neutral pillow case and a sham that ties into the beautiful patterns of your duvet cover.